After Freedom of Information requests and investigative journalism on a well known news site it has been revealed that on the 1st of February the Foreign and Commonwealth Office invited staff to an event to learn more about the hijab and "... the liberation, respect and security through wearing it".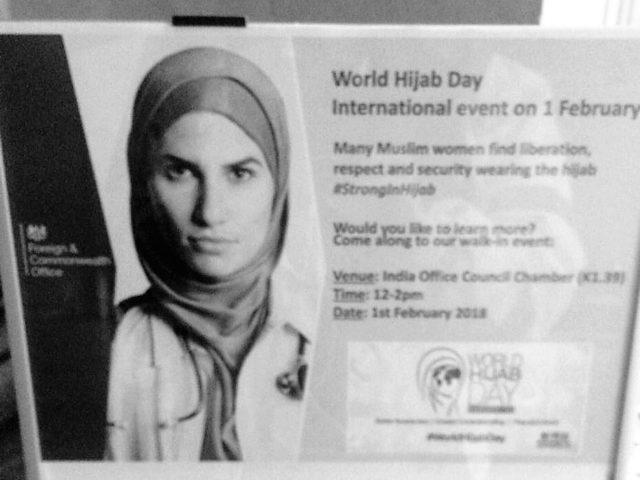 British Government departments have recently seen a significant increase in spending on events to improve "cultural awareness" and training on staff members to guard against any potential "racist" or "insensitive" remarks and actions. This comes at a time when other government branches face huge cuts to budgets and none more so than in the armed forces.
The event was marketed as saying "Would you like to try on a Hijab or learn why Muslim women wear the headscarf? Come along to our walk-in event. Free scarfs for all those that choose to wear it for the day or part of the day. Muslim women, along with followers of many other religions, choose to wear the Hijab. Many find liberation, respect and security through wearing it. #StrongInHijab. Join us for #WorldHijabDay."
The Hijab is increasingly been seen as a highly political symbol with Western Governments seen as keen to promote it's wearing and use. This is unlike in Iran where female protestors have removed the Hijab as an act of defiance against the ruling Islamic regime and face arrest and imprisonment for doing so.
Would you help support our news articles and campaign by donating a small amount? Click here now!
Do you like this post?