When President Donald Trump mentioned that usually quiet Nordic Country Sweden had its problems he was roundly mocked by the Liberal Elites and the establishment. Evidence coming out of the land that produced Abba is that it is now one of lawlessness and a political class struggling to cope with realities.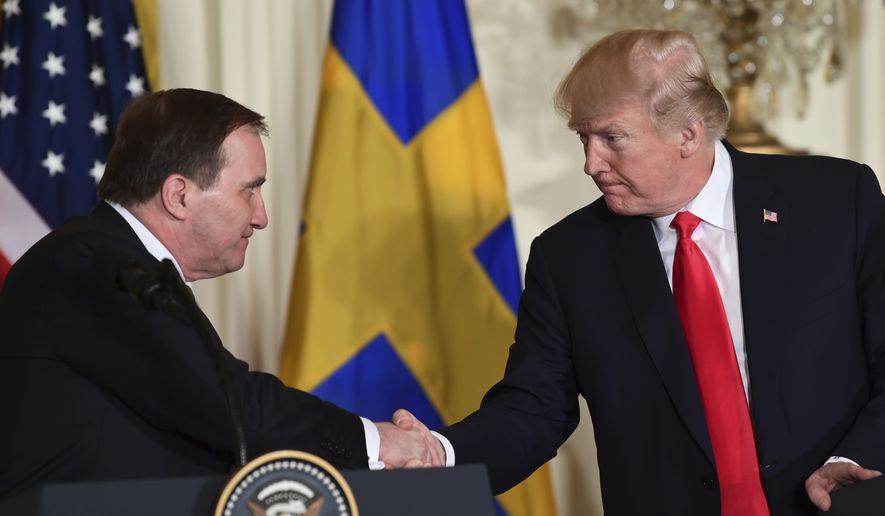 At a Press conference in Washington the PM of Sweden, Stefan Loefven, met with Donald Trump and admitted "We also have problems with crime." He failed however to admit the existence of any no go zones in Sweden which is contrary to the ongoing reports of grenade attacks on authorities and emergency services. There have also been numerous reports of the Police trying to censor those who hold views that are critical of Mass Immigration like they are currently doing in Germany.
Loefven said: "Organised crime in Sweden. Shootings. But it is not like you have these 'no go zones'. We have dealt with it. I am dealing with it every day. Allocating more resources to the police. More policemen trained. More resources to the security police. Tougher law on crime. Tougher law on terrorism. Deporting terrorism.
So we do a lot to combat that and we can also see some results now in our three major cities. Decreased shootings because we're attacking the organised crime, very tough, and we will keep on doing that because there is no space in Sweden for organised crime because they decrease freedom for ordinary people".
Political Correctness is so bad that people are arrested for daring to link any criminality with migrant gangs and as such laws have been brought in to Police this. Likewise recently a Swedish Bishop welcome the Islamic call to prayer now echoing around Växjö. Likewise the Bishop of Stockholm actually insisted on the removal of some crosses from her Church in case it offends non Christians!
In news that is set to cause even more tension a report by the Swedish National Institute of Economic Research says that councils across the country will be forced to raise taxes to pay for the recent population explosion caused by mass migration.
Urban Hansson Brusewitz, head of the National Institute of Economic Research said: "We are facing some years of demographic challenge, which makes me a little worried that the municipalities may be forced to raise taxes."
The report also stated that the biggest issue for the Swedish government is the disproportional rate of unemployment among migrants which continues to put a burden on the social system as further migrants enter the country.
Do you agree Sweden is an example of why we need out of the EU now?!
Do you like this post?