Sadiq Khan has urged the 1.1 million EU residents who live in London to punish the Government over Brexit at this May's local elections. During the referendum and also general elections EU citizens are not allowed to vote but they are at Council Elections. He hopes that by them voting en masse it will force the Government into a softer Brexit or to cancel it altogether.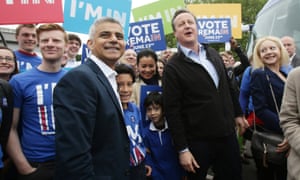 Government insiders have suggested that a battering at the Local Elections could see fresh attempts by Remainers to unseat Theresa May and put in a Remain PM. 51,000 EU citizens live in Barnet while 39,000 live in Wandsworth and these votes could be enough to swing the vote in favour of Remain candidates.
Khan said: "We need to send the Tory Government a message that we don't want their chaotic extreme hard Brexit approach - before it's too late and the damage is irrevocably done. The clock is ticking - and while the Tories fight amongst themselves putting their narrow party interests first, the fate of jobs and growth for Londoners and people across the country hangs in the balance. This is our last chance to tell the Tories that we want a Brexit deal that works for us - including continued membership of the Single Market and Customs Union and access to talent that we so desperately need to succeed."
Are you angry with what Sadiq Khan has said?
Do you like this post?