This week is an extremely busy one in Brussels where the bloated EU Commission is budgeting for the years 2021-2027. Negotiations have been fraught however as they have to plan for the UK hopefully leaving and the budget shortfall amounts to tens of billions. However the overall budget for the 6 year period amounts to an eye-watering 1.279 trillion Euros!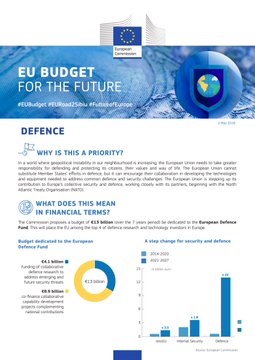 Within this budget is a highly significant figure of 13 billion Euros. This is titled under the 'EU Military Fund' which many are saying is simply code for an EU Army! Many will recall that during the referendum the talk of an EU army was dismissed as fantasy and scaremongering, now it is a reality!
The European Commission proudly stated: "The European Union is stepping up its contribution to Europe's collective security and defence. Investments needed to facilitate military mobility throughout the EU will be funded by €6.5 billion through the Connecting Europe Facility.
The facility will aim to increase the EU's support to peace operations by third parties worldwide and cover joint costs of Common Security and Defence Policy military missions… to enable the EU to engage in broader actions aimed at supporting non-EU countries' armed forces with infrastructure, equipment, supplies or military technical assistance."
Do you like this post?